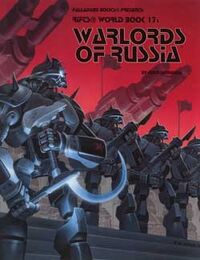 Rifts® World Book Seventeen
---
Synopsis
Rifts® Warlords of Russia™ is packed with world information about Western Russia, the Warlords who rule it, and their legions of incredible cyborg warriors. Other character classes include the Cossack, Wingrider, Ectohunter, Hero-Knight, Explorer, Smoke Soldier (super spy), Trapper-Hunter and others.
The Warlords of Russia, their armies, politics, plans and enemies, which includes other Warlords.
The Sovietski, the last vestiges of a bygone era.
Russian Cyborgs galore -- different and powerful.
New bionics, weapons, vehicles and equipment.
Monster-ridden lands, heroes, war and madmen.
Tons of world information, maps and adventure ideas.
Written by Siembieda & Krueger.
Cover by John Zeleznik.
Art by Perez, Johnson, Breuax & others.
224 pages.
Cat. No. 832 - I.S.B.N. 1-57457-010-2

Description and cover art from Palladium Books Web site, copyright ???? Palladium Books Inc. All rights reserved. Rifts®, Megaverse® and Palladium Books® are registered trademarks of Palladium Books Inc. and Kevin Siembieda. All other titles and names are trademarks of Palladium Books.
Contents
Contents of Warlords of Russia™.
Artwork
Cover Painting:
Interior Art:
Errata
Errata of Warlords of Russia™.
Reviews
List of Reviews of Warlords of Russia™.