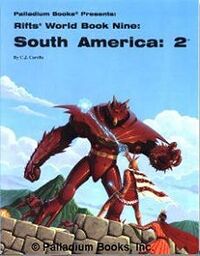 Rifts® World Book Nine
---
Synopsis
Rifts South America is a hotbed of intrigue and conflict. There are the mysteries of the Nazca Lines (a magic, alien defense system), the return of ancient gods, alien invaders, mutants, Inca undead, transdimensional raiders, and more. Tons of great new character classes, magic, weapons, armor and equipment.
Highlights Include:
Over 30 new O.C.C.s and R.C.C.s.
The Nazca Line Maker and Line Drawing magic that creates energy animals, armor and wonders.
Larhold magic of the Blue Flame.
The return of the Inca Empire. A growing human power led and inspired by the return of the Inca gods.
The Silver River Republic is a collection of human and D-Bee alliances constantly involved in conspiracies, alliances and war.
War machines that rival the CS or Triax!
Written by C.J. Carella.
Art by Kevin Long, Vince Martin, Post, and Breaux.
192 pages.
Cat. No. 819; I.S.B.N. 0916211-89-4

Description and cover art from Palladium Books Web site, copyright ???? Palladium Books Inc. All rights reserved. Rifts®, Megaverse® and Palladium Books® are registered trademarks of Palladium Books Inc. and Kevin Siembieda. All other titles and names are trademarks of Palladium Books.
Contents
Contents of South America Two™.
Artwork
Cover Painting:
Interior Art:
Errata
Errata of South America Two™.
Reviews
List of Reviews of South America Two™.