Monster Spectacular
---
Synopsis
The Rifter® #44 is a pinup issue of a different type, as Palladium artists and writers conspire to create the best (as in most gruesome and dangerous) monsters for your gaming enjoyment. It is similar to the Swimsuit Issue except the "pinups" will be horrible, hellspawn monsters from across the Megaverse®.
The Rifter® is your doorway to unlimited imagination and numerous Palladium role-playing worlds. It offers new heroes, powers, weapons, magic and adventure for your games. It presents new villains, monsters and dangers to battle, and new ideas to consider.
A gallery of MONSTERS from across the Megaverse®.
Art by Palladium fan favorite artists.
Written by Palladium fan favorite writers.
The latest chapter of Hammer of the Forge™, fiction.
News, coming attractions and more.
96 pages – Cat. No. 144.
Description and cover art from Palladium Books Web site, copyright 2008 Palladium Books Inc. All rights reserved. Rifts®, Megaverse® and Palladium Books® are registered trademarks of Palladium Books Inc. and Kevin Siembieda. All other titles and names are trademarks of Palladium Books.
Contents
Under Construction
Artwork
Cover Painting: Under Construction
Interior Art: Under Construction
Errata
Under Construction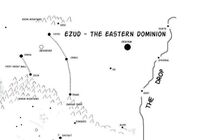 "Hello all!"
"Due to space limitaions, the map of Ezud that should have appeared in Rifter #44 was absent. Here is my copy of it: The Eastern Dominion."
"Hope you enjoy the series."
-Braden Campbell, on the Forums of the Megaverse®
Reviews