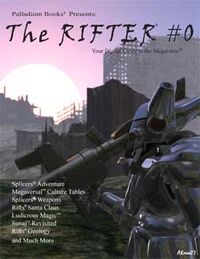 Synopsis
The Rifter® #Zero will help us celebrate The Rifter's 10 Year Anniversary. This "special edition" will only be available as an electronic file download, making it the first Palladium downloadable product.
It has been compiled and put together by long-time Palladium fan, Matthew Daye (aka Prince Artemis on-line) and is pretty darn good. All contributors are Palladium fans looking to share their ideas with others. That's awesome, because I think you guys and gals have forgotten that The Rifter® is a combination "fanzine" and "talent show." Even the print edition of The Rifter® is supposed to be a place for FANS to see their work published and shared with other gamers. It's part talent show because the Palladium editors keep close watch on the many young writers and artists who contribute to The Rifter® in search of the next person who might be encouraged to write or illustrate Palladium's official sourcebooks on a freelance basis.
So where are your submissions to The Rifter®? We need and want articles, adventures and source material for every Palladium game line. Isn't it time YOU shared your ideas?
Highlights for The Rifter® #0 Include: A Megaverse® of Skills – a giant skill list compiled by Michael G. Totton, Jr.; all settings.
Known Worlds by Linwood Foster; for The Three Galaxies™.
Spells of the Arch Mage, a big and juicy hunk of magic source material, by Matthew Daye; for Rifts® and other Palladium settings.
Santa Clause by Josh Hilden, fun and funny; for Rifts®.
Weapons & Bio-Enhancements, by Chris Kluge; for Splicers®.
Seven Years on Cerebus for Splicers, Culture and Tradition, plus Ludicrous Magic rounds out the special edition.
Cover by Adam Kass.
Lots of material and ideas. Available on-line only.
Description and cover art from Palladium Books Web site, copyright 2005 Palladium Books Inc. All rights reserved. Rifts®, Megaverse® and Palladium Books® are registered trademarks of Palladium Books Inc. and Kevin Siembieda. All other titles and names are trademarks of Palladium Books.
Contents
To be added
Errata
To be added
Reviews
To be added Bold text