We're Getting Mutants in the MCU - The Loop
Play Sound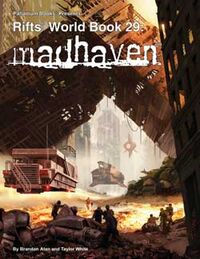 Rifts® World Book Twenty Nine
---
Synopsis
The ruins of Manhattan - better known as Madhaven - are a place of madness, ghosts and monsters. For some the ruins offer the promise of ancient secrets, power or treasure. For the mutants who inhabit the shattered landscape, it is truly a haven. For the Knights of the White Rose it is a hiding place. For many others, however, Madhaven is their doom.
The ruins of Manhattan, its history, its curse and its inhabitants.
The Mutants of Madhaven; 7 new optional player characters or villains.
The ghosts and monsters of Madhaven and their weird powers.
The Knights of the White Rose, their secret and their redemption.
The magical White Rose, the greatest healing power on Rifts Earth.
Techno-Wizard weapons and devices, plus M.D.C. bone weapons.
Adventure setting, ideas and more.
Page Count: 128 pages.
Cover By:Mark Evans.
Interior Art: Bradshaw, Burles, Okamura & Williams.
Written By: Brandon Aten, Taylor White and Kevin Siembieda.

Description and cover art from Palladium Books Web site, copyright ???? Palladium Books Inc. All rights reserved. Rifts®, Megaverse® and Palladium Books® are registered trademarks of Palladium Books Inc. and Kevin Siembieda. All other titles and names are trademarks of Palladium Books.
Contents
Contents of Madhaven™.
Artwork
Cover Painting:
Interior Art:
Errata
Errata of Madhaven™.
Reviews
List of Reviews of Madhaven™.