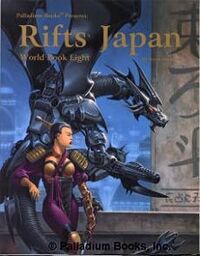 Rifts® World Book Eight
---
Rifts World Book Eight: Japan was published by Palladium Books in 1995.
===
Synopsis
Four pre-Rifts cities suddenly materialize from a pocket dimension. For them, three days have passed since the Great Cataclysm began, for the rest of humankind its has been 300 years! Pre-Rifts Glitter Boys, people, and technology clash with anti-technology traditionalists, magic, and oni demons! Traditional O.C.C.s like the Samurai, Mystic Ninja, Yamabushi Priest and Warrior Monks, blend with high tech marvels like the Dragon-Borg, Ninja Juicer, and Cyberoid.
Highlights Include:
Dragon Cyborgs and new bionics and implants
Japanese dragons, demons, monsters and magic.
Japanese body armor, robots, power armor and weapons.
Over 20 new character classes including the Demon Queller, Samurai, Mystic Ninja, Juicer Ninja, Glitter Boy Marine, Tengu Birdmen, and others.
The "living" samurai sword — a rune weapon.
Mysticism and martial arts.
World information about Japan and surrounding areas. Lots of insight and info about the high-tech Republic of Japan, the anti-technologists of the New Empire, the evil Otomo * Shogunate, the monster ridden Zone and more.
Written by Kevin Siembieda with Pat Nowak.
Art by Martin, Post, Breaux, and Zeleznik.
Cat. No. 818; I.S.B.N. 0916211-88-6

Description and cover art from Palladium Books Web site, copyright ???? Palladium Books Inc. All rights reserved. Rifts®, Megaverse® and Palladium Books® are registered trademarks of Palladium Books Inc. and Kevin Siembieda. All other titles and names are trademarks of Palladium Books.
===
Contents
Contents of Japan™.
Artwork
Cover Painting:
Interior Art:
===
Errata
Errata of Japan™.
===
Reviews
List of Reviews of Japan™.