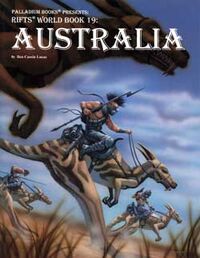 Rifts® World Book Nineteen
---
Synopsis
Isolated from the rest of the world, the Land Down Under is a unique and savage land of survival, adventure, monsters and magic. Written by native Australian Ben Lucas (with additional material by Siembieda). Rifts® Australia has been one of the most requested World Books ever, and is finally a reality,
Melbourne

&

Perth

, two high-tech powers who may become the Coalition States of Australia -- hardhearted, paranoid, & cruel.
Rules for creating Outback communities.
Over 20 O.C.C.s like the

Bushman

,

Jackaroo

and

Road Sentinel

.
Mystic O.C.C.s include the

Sham-Man

and

Songjuicer

.
Mutants and Monsters.

Dreamtime

gods and menaces.
New weapons and technology.
World information and adventure ideas.
Written by Ben Lucas, with additional material by Siembieda.
Artwork by Perez, Breaux, Dubisch, and Wilson.
224 pages.

Description and cover art from Palladium Books Web site, copyright ???? Palladium Books Inc. All rights reserved. Rifts®, Megaverse® and Palladium Books® are registered trademarks of Palladium Books Inc. and Kevin Siembieda. All other titles and names are trademarks of Palladium Books.
Contents
Contents of Australia™.
Artwork
Cover Painting:
Interior Art:
Errata
Errata of Australia™.
Reviews
List of Reviews of Australia™.